How To Build a Mini Gnome Garden
Once we saw the flower pot miniature fairy garden that our Michaels Maker Stephanie Lynn made, we knew we had to plant one of our own and fell in love with this little gnome. Whether in a veggie garden or in a flower pot, these magical miniature figurines tell the sweetest little stories.
The best part about the miniature garden is the "mini" part! It's so simple, so fast, and so much fun. We actually potted this adorable mini gnome garden in under 15 minutes!
Here's what you need to get started:
Shovel
Gloves
Plant or Flower of Choice
Potting Soil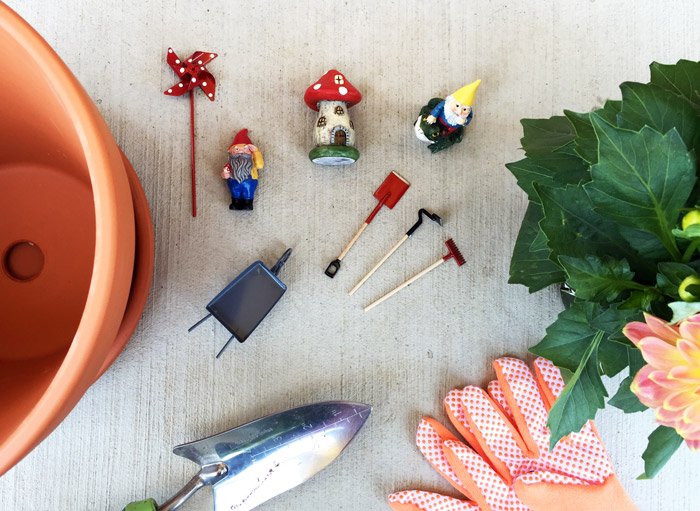 We used gnomes and toadstools and even a miniature garden set and wheelbarrow.
1. Fill Your Pot with Dirt
Depending on the height of the plant you are planting, you may want to fill the pot half to 2/3 full with potting soil.
2. Pot Your Plant
Loosen up the roots on your plant and place it in the pot. Then use more potting soil to fill in around your plant to make it nice and snug.

You'll notice we planted our dahlia flower towards the back of the pot to leave room for our gnome garden up front.
3. Add Your Miniatures
We added a happy little gnome, his toadstool home, a polka dot pinwheel and some tiny garden tools.
Though we only used a few miniatures and one potted plant, you can stack pots and layer them stories high to create bigger and better fairy or gnome gardens. Tip: Make sure your pots have adequate drainage so your plants can breathe.
Have you used any Michaels miniatures to create garden scenes? Share your creations with us on Instagram using #MadeWithMichaels for a chance to be featured in our inspiration gallery!
Category: