How To Ice Dye – A New Tie Dye Trend
Tie-dyeing has been around for ages! I've always loved it. Call me a hippie, but there's just something about those brightly twisted swirls of color that make me so happy! In honor of National Tie-Dye Day, I wanted to share a lesser-known but equally as radical method of tie-dyeing – the Ice Dye technique. Here's what you'll need to get started: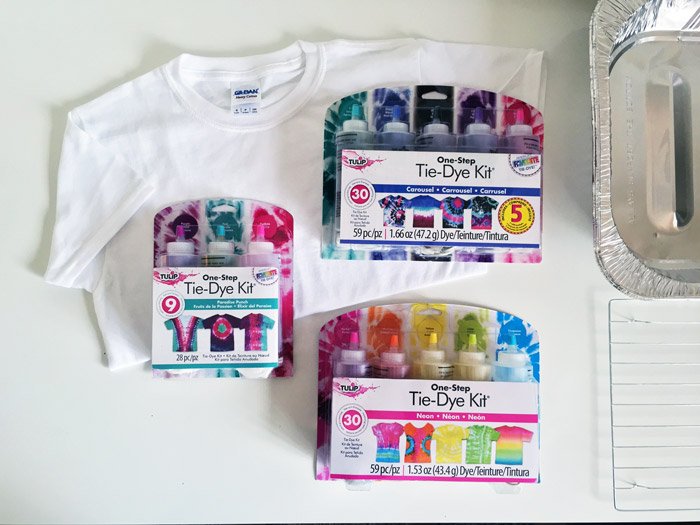 I picked up some plain white kids t-shirts and a few Tulip® One-Step Tie-Dye Kits. You'll also need to get a couple of pans and racks that you don't mind getting messy.
What's awesome about the Tulip One-Step kit is that it has pretty much everything you need in it! A lot of tutorials will tell you to do a soda ash wash on your fabrics first, but these kits come with that all built in. So easy!
Let's get started!
1. Wash Your Fabric
I recommend you running your clothing items through a regular wash cycle to get rid of sizing and any chemicals that may have been used on them during manufacturing. Do not dry! We want the fabrics nice and wet for dyeing.
2. Scrunch and Fold
Here's where you can get creative. There are tons of tie-dye folding techniques out there, so try out a few. For ice-dyes, I happen to love the good ol' crumple method. The one-step kits come with rubber bands, but I have omitted using them for this tutorial. I didn't want the hard lines that they can sometimes create. Once you've got your desired fold, place your fabric on top of a rack that is resting on a foil pan. The pans will catch your dye water. Try not to let your fabrics touch or you may get some color run like mine did… Although, I think it turned out pretty great regardless.
3. Cover with Ice
Next, you want to completely cover your fabric with ice. Pile it on until every inch is covered. The more ice you use, the greater effects you will see in your dye.
4. Sprinkle Dye
STOP. Put on the gloves that came in the kit. This step is very important if you do not want blue and purple hands tomorrow. Now that you're protective gloves are on, open a few bottles of dye. Tulip makes selecting color combos easy with these kits. They make sure to provide you with colors that won't muddy up and turn dark brown when they blend.  For the ice-dyeing method, we won't actually mix up the dye with water to make a liquid. We want to use just the powder!
Carefully sprinkle the powdered dye over your ice making sure to cover it all. Be generous here. Lots of dye = lots of vibrant colors.
5. Let it Melt
Depending on which part of the country you live in and the time of year, this could take anywhere from an hour to overnight. It's best to do an ice-dye on a sunny day and let it set for 6-8 hours. Some people even use snow for this method. How fun!
Once it's all melted, your fabrics will look like this. Don't worry if you see chunky, powdered dye leftover. It will rinse off soon.
6. Rinse
Rinse all of your pieces in cool water until the water runs clear. Don't forget to keep your gloves on for this part!
7. Wash
This final step is important in making sure that your dye sets. Fill your washer to a large load setting with hottest water suitable for the fabric and a small amount of laundry soap. Wash and dry your fabric separately. I also recommend washing these pieces separately the first few washes.
I think they came out pretty awesome!
Are you jumping on the tie-dye bandwagon? Share your creations with us on Instagram using #MadeWithMichaels!
Category:
Tags: