Decorate Your Graduation Cap
Show off your style and go out with a bang with a custom decorated graduation cap! Your fans will have no problem finding you in the sea of other graduates. This spiral tie dye graduation cap is simple to craft and makes quite a statement!
Here's what you need to get started: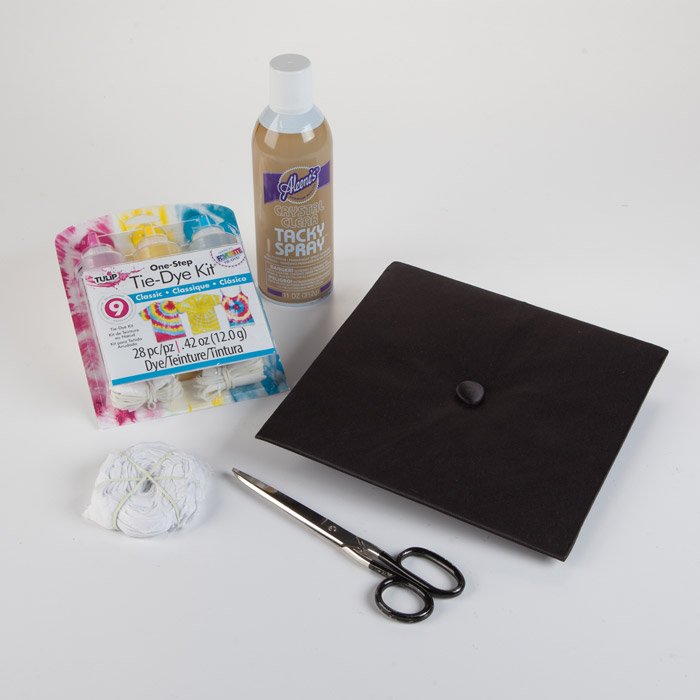 Your Graduation Cap (or Mortarboard)
Disposable Plastic Table Cover
Let's get started!
1. Cut a square of the white fabric several inches wider than the brim of the cap, all the way around.
2. Wash the fabric and leave it damp. Lay it out flat on a covered work surface and smooth out any wrinkles.
Twist the fabric into a spiral tie and then secure  it with rubber bands from the kit.
3. Mix the dye colors according to package instructions and apply the dye to tied fabric in wedge-shaped sections.  Then you'll cover the dyed fabric with plastic and let it set for 6-8 hours.
4. Remove the rubber bands from the fabric and rinse it under cool running water to remove excess dye.  Then, wash and dry the fabric according to fabric requirements.
5. Cut a small slit in the center of your fabric square so that the cap button can be pulled through.
6. Spray a light coat of Aleene's® Tacky Spray™ onto the top of your cap and press the fabric onto cap, pulling the button through the small slit in the fabric.
7. Turn your cap over and tuck the fabric under the brim, securing with Aleene's® Fabric Fusion® tape and trimming excess fabric as needed.
How easy was that? Here are a few more creative graduation cap ideas:
Are you planning on decorating your graduation cap? Share a pic of your DIY graduation cap with us on Instagram using #MadeWithMichaels!
Category:
Tags: